Local Handicrafts
List of Handicraft makers in the Berg & Coiron territory
Here is the list of handicraft makers in Ardèche located in the touristic territory of Berg & Coiron. To narrow your selection use the list of criteria on the left.
Come and discover my universe between wood and metals, where the forge and the hammer blend with the finesse of a sharp wood chisel. You will find art cutlery, violin making and foundry there.
Phone : 07 68 96 28 63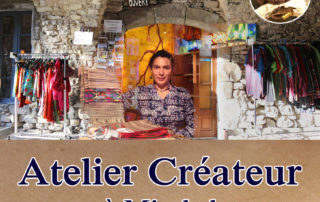 La Magnanerie: creator workshop, at the small square of Mirabel, called "Place du Crieur".
Jewelry, accessories, ready to wear, cold drinks, ice cream.
Phone : 06 12 53 65 43