Village of Saint-Gineys-en-Coiron
At the southern end of the village you will find an exceptional archeological and geological site, called Balmes de Montbrun. The name Balmes d'Montbrun or burned mountain, evokes its volcanic origins.
Information
Description
Inside the crater of this ancient volcano the cave dwellers amazingly carved their homes using the lava rock, even constructing a chapel to St. Catherine. The site made up a real village (over 30 of the caves have 2 levels).
Poor peasants still continued to live in them just up to the end of the 19th century.
It is one of the best examples of medieval cave dwelling in the South of France.
From the top promontory of Des Balmes you can see the site of the Oppidum of Cheylard.
We also propose:
Coordinates
Adress

07580 Saint-Gineis-en-Coiron

Contact

04 75 36 72 67
04 75 94 89 28

GPS coordinates

Latitude : 44.633234
Longitude : 4.533508
Interactive map
Cultural Heritage
Equipment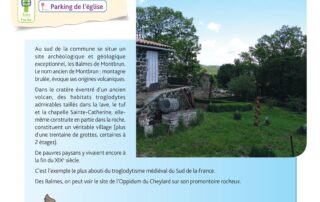 Fun walk for the whole family to discover the village and its secrets.
Free download on the website of the Tourist Office "Berg et Coiron"
or available at the office.
N.B: Only in French, no translation available at the present time.
Phone : 04 75 94 89 28
Picnic tables are located at the start of the troglodytic site " Les Balmes de Montbrun " (approximately a 45-minutes visit).
Parking – Tables and benches.
Phone : 04 75 36 72 67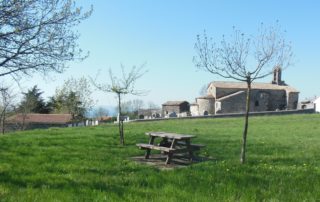 At the earth of this picturesque village, you can found a table and a big green grass ground to picnic. The church of the village is classified as Historical Monument.
Phone : 04 75 36 72 67
Furnished accommodation and Gîtes
The gite has a lovely view of the countryside with a terrace facing the south and an enclosed wooded garden, a pool shared only by the property owners and private parking. 5 persons capacity: 2 full size bed and a small bed, 2 showers and 2 WC.
Phone : 06 71 72 61 00